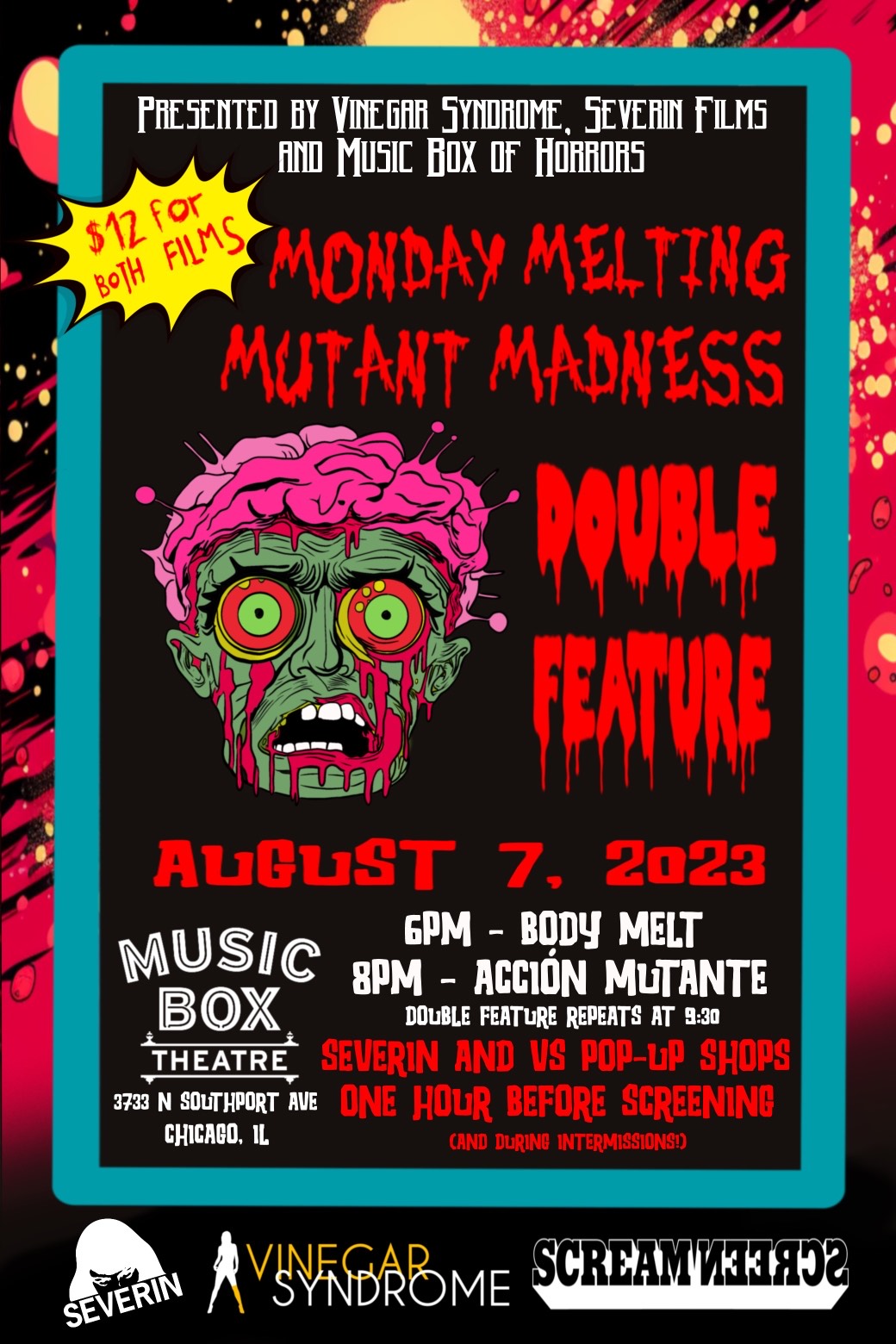 https://musicboxtheatre.com/films-and-events/body-melt-accion-mutanteSeverin & Vinegar Syndrome Pop-Up Shops in the lounge from 5p - 10p
MONDAY MELTING MUTANT MADNESS!!
Music Box of Horrors, Vinegar Syndrome, and Severin Films return for another night of sanity-destroying lunacy featuring two films so disgusting and depraved, you'll be lucky if you make it out alive!!
BODY MELT Dir. Philip Brophy, 1993, 83 min., DCP
Residents of the placid suburban cul-de-sac of Pebbles Court have started receiving unexpected samples of a new and experimental vitamin, manufactured by a strange health spa named Vimuville. However, shortly after adding the mysterious green powder to their diets, users begin to experience strange and increasingly macabre visions, and worse, their bodies start to mutate, ooze, and eventually melt! As visits from the coroner to the sleepy street become a nearly daily experience, Detective Sam Phillips becomes increasingly suspicious of the goings on at Vimuville, but will he be able to uncover its diabolical motives before the whole of Australia is subjected to BODY MELT? Writer/director/composer Philip Brophy's notorious slime-filled cult classic BODY MELT remains one of the last great Ozploitation films. Packed with gross-out gore effects, biting black comedy, and a throbbing techno-esque score, Vinegar Syndrome proudly presents BODY MELT in an all new 2k restoration sourced from the original 16mm negative.
ACCION MUTANTE Dir. Álex de la Iglesia, 1993, 93 min., DCP
Before THE DAY OF THE BEAST, PERDITA DURANGO and the HBO series 30 COINS, writer/director Álex de la Iglesia made his smash debut with this "delightfully tasteless" (A Wasted Life) and "ridiculously aggressive" (Reel Rundown) "crazy genius sci-fi classic you've probably never seen" (A Taste of Cinema): In a dystopian future ruled by the wealthy and attractive, a deformed and disabled terrorist organization known as 'Mutant Action' will kidnap an heiress, flee to a desolate mining planet and trigger an intergalactic bloodbath of berserk vengeance. Antonio Resines (CELL 211), Álex Angulo (DYING OF LAUGHTER), Ramón Barea (800 BULLETS) and Santiago Segura (THE LAST CIRCUS) co-star in this "worldwide cult classic" (Dread Central) co-produced by Agustín & Pedro Almodóvar and winner of three Goya Awards, now scanned in 4K from the original negative.https://musicboxtheatre.com/films-and-events/body-melt-accion-mutante