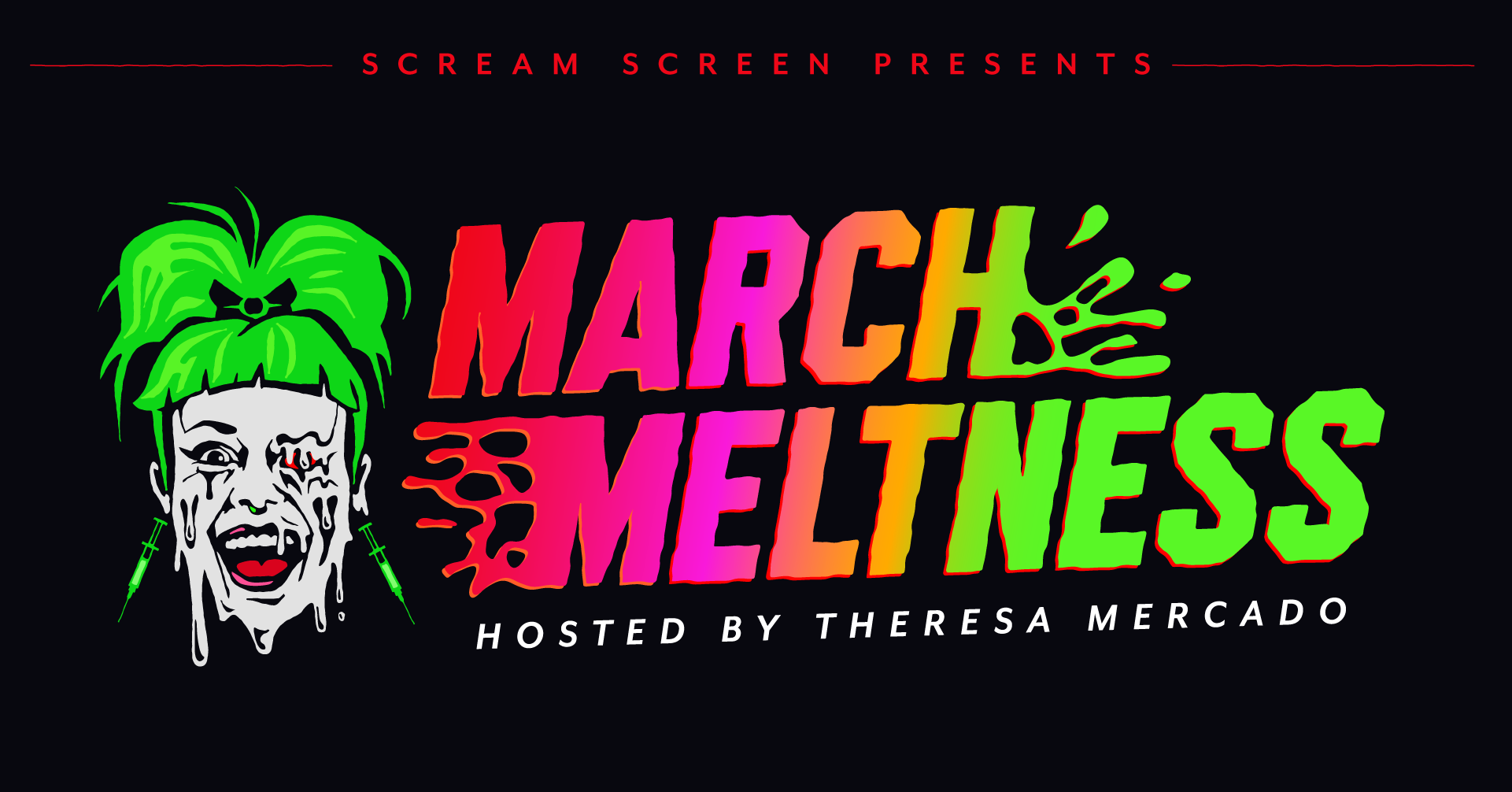 Scream Screen hosted by Theresa Mercado is back at the Sie FilmCenter with a new series, "March Meltness!" every Friday in March featuring the some of the best MELT ever to ooze down the big screen!
Fri. March 4, 2022: BODY MELT (1993) D: Philip Brophy
Special pre-film musical performance by Church Fire! Restoration courtesy of Vinegar Syndrome and the American Genre Film Archive.
The grossest gross-out gore comedy since DEAD ALIVE, packed with squirmy '90s techno and show-stopping shock setpieces that'd make even Rob Bottin blush.
Residents of the suburban cul-de-sac Pebbles Court receive unexpected samples of an experimental vitamin made by a strange health spa named Vimuville. When the town adds the powder to their diets, they experience strange macabre visions -- and worse, their bodies mutate, ooze, and melt! As coroner visits become daily, Detective Phillips suspects Vimuville -- but will he uncover its diabolical motives before the whole of Australia is subjected to BODY MELT?!?!
https://denverfilm.eventive.org/.../61faf63304ba8f007526e8fe
Fri. March 11, 2022: THE INCREDIBLE MELTING MAN (1977) D: William Sachs Presented on 35mm film!
An astronaut returns to Earth after he is exposed to radiation during a space flight to Saturn, only to find that his body suddenly has the ability to melt on a regular basis, driving him to commit murders and consume human flesh in order to survive. Special effects by Rick Baker!
https://denverfilm.eventive.org/.../61faf86c278c470068e6e383
Fri. March 18, 2022: THE DEVIL'S RAIN (1975) D: Robert Fuest
Special pre-film musical performance by Telekinetik Brainwave Destruktion!
A satanist cult leader is burnt alive by the local church. He vows to come back to hunt down and enslave every descendant of his congregation, by the power of the book of blood contracts, in which they sold their souls to the devil.
https://denverfilm.eventive.org/.../61fafa325906bf003daf0ca7
Fri. March 25, 2022: STREET TRASH (1987) D: J. Michael Muro Presented on 35mm film! Special pre-film party starting at 7pm featuring DJ Sara Splatter and an after party at The Crypt (1618 E 17th Ave)!
In the sleazy, foreboding world of winos, derelicts and drifters in lower Manhattan, two young runaways – eighteen-year-old Fred (Mike Lackey) and his younger brother, Kevin (Mark Sferrazza) – live in a tire hut in the back of an auto wrecking yard. Life is hard, but the most lethal threat to the boys is the mysterious case of "Tenafly Viper" wine in Ed's liquor store window. The stuff is forty years old… and it's gone bad. REAL bad! Anyone who drinks it melts in seconds, and it's only a dollar a bottle!
https://denverfilm.eventive.org/.../61fafb68cee72000a964f7ac
Thanks to our series sponsor Vinegar Syndrome