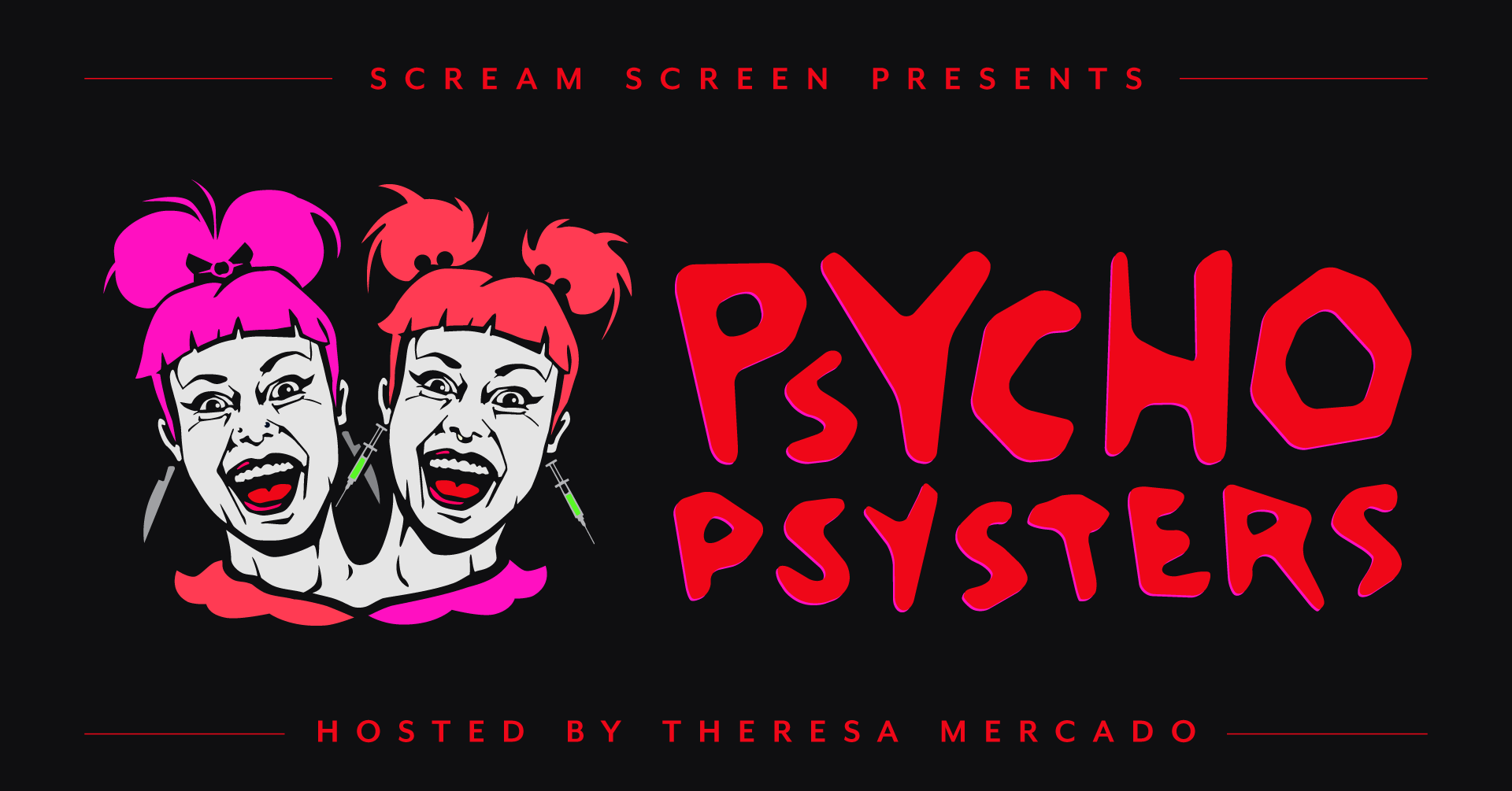 Scream Screen, programmed and hosted by Theresa Mercado is back at the Sie FilmCenter with a new series, "Psycho Psysters!" every Friday in June exploring some of the best dysfunctional sister horror films proving that BLOOD really is thicker than water!
Fri. 6/3: SISTERS (1972) D: Brian DePalma, w/ special pre-film musical performance by QUITS, special fundraiser (details below) for My Fairy Dawg Mother Rescue beginning at 7pm!
Margot Kidder is Danielle, a beautiful model separated from her Siamese twin, Dominique. When a hotshot reporter (Jennifer Salt) suspects Dominique of a brutal murder, she becomes dangerously ensnared in the sisters' insidious sibling bond. A scary and stylish paean to female destructiveness, De Palma's first foray into horror voyeurism is a stunning amalgam of split-screen effects, bloody birthday cakes, and a chilling score by frequent Hitchcock collaborator Bernard Herrmann.
Tix: https://denverfilm.eventive.org/.../626497965693d30030006680
Fri. 6/10: MADHOUSE (1981) D: Ovidio G. Assonitis, w/ special pre-show musical performance by WEATHERED STATUES
Helmed by legendary producer/director Ovidio Assonitis, the man behind such cult favourites as The Visitor and Piranha II: The Spawning, Madhouse is a crimson-soaked tale of sibling rivalry taken to a terrifying and bloody extreme. Julia has spent her entire adult life trying to forget the torment she suffered at the hands of her twisted twin Mary... but Mary hasn't forgotten. Escaping hospital, where she's recently been admitted with a horrific, disfiguring illness, Julia's sadistic sister vows to exact a particularly cruel revenge on her sibling this year - promising a birthday surprise that she'll never forget. An Italian production shot entirely in Savannah, GA, Madhouse (aka And When She Was Bad and There Was a Little Girl) fuses slasher elements with the over-the-top excess of '80s Italian terror - resulting in a cinematic bloodbath so gut-wrenching that the Brit authorities saw fit to outlaw it as a "video nasty."
Tix: https://denverfilm.eventive.org/.../626498f55eafec0055442398
Fri. June 17- THE MAFU CAGE (1978) D: Karen Arthur, presented on a VERY RARE 35mm print, w/ special pre-show musical performance by SHOCKER MOM
Academy Award winner Lee Grant stars with Academy Award nominee Carol Kane in this psychological thriller directed by Emmy winner Karen Arthur. Cissy (Kane) and Ellen (Grant) are daughters of a deceased African primatologist who kept wild animals in a cage in his living room. Mentally unbalanced, Cissy virtually lives in this exotic 'Mafu Cage', crowded with hothouse plants and strange African artifacts. Ellen is obsessed with the caretaking of Cissy and must keep a constant watch on her sister's unpredictable personality. When Ellen's co-worker, David (James Olson), begins making romantic advances towards Ellen, Cissy believes the man poses a threat to the sisters' relationship. The disturbed Cissy ensnares David in the Mafu Cage and subjects him to a series of horrific, and deadly rituals.
Tix: https://denverfilm.eventive.org/.../62649aff2d35780045e5ef71
Fri. June GINGER SNAPS (2000) D: John Fawcett, w/ special pre-show musical performance by DEAD BOYFRIEND
The story of two outcast sisters, Ginger (Katharine Isabelle) and Brigitte (Emily Perkins), in the mindless suburban town of Bailey Downs. On the night of Ginger's first period, she is savagely attacked by a wild creature. Ginger's wounds miraculously heal but something is not quite right. Now Brigitte must save her sister and save herself.
Tix: https://denverfilm.eventive.org/.../62649c3a3e5a4400ca00e58d
Scream Screen is hosting a silent auction fundraiser for My Fairy Dawg Mother Rescue (MFDM) on Fri. June 3 at 7p in the Sie FilmCenter lobby kicking off the month-long film series. MFDM is a non-profit foster-based rescue in Denver, CO working diligently to get dogs in need into their forever homes. Thanks to the generosity of many Denver individuals and businesses, there will be a plethora of items to bid on including: art, gift certificates for restaurants, bars, entertainment, personal wellness and much more. 100% of proceeds will go to MFDM. Any items not auctioned on June 3 will be available to bid on the following Friday.
https://dogrescuecolorado.org/
https://scream-screen.com/
HUGE THANKS to silent auction donors:
Archangel Impressions
Amanda Baker Photography
Bluebird Botanicals
Sue and Bill Brooks
Mairead Case
The Crypt
Denver Film
Denver Horror Collective
Denver Museum of Miniatures, Dolls and Toys
Chanin Floyd of Bad Hair for Bad People
Fort Greene Bar
Liz Greeene Tattoo
Tina Hagerling Photography
Marc Hughes
Mad Tatters
Whitney Martin of Sage & Serpent Hair
Palenque Cocina y Agaveria
Heather Reynolds
Amanda Salasin LMT
Matt Sprague
Twist & Shout Records
Vinegar Syndrome
Wong Way Veg
We'll also be collecting the following items for MFDM which you can bring to any Scream Screening in June:
-New large and extra large collars, leashes, harnesses
-Grain-free wet food
-Dog treats
-Large dog beds
-New toys, Kongs
-New fleece blankets
-Wisdom Panel dog DNA tests