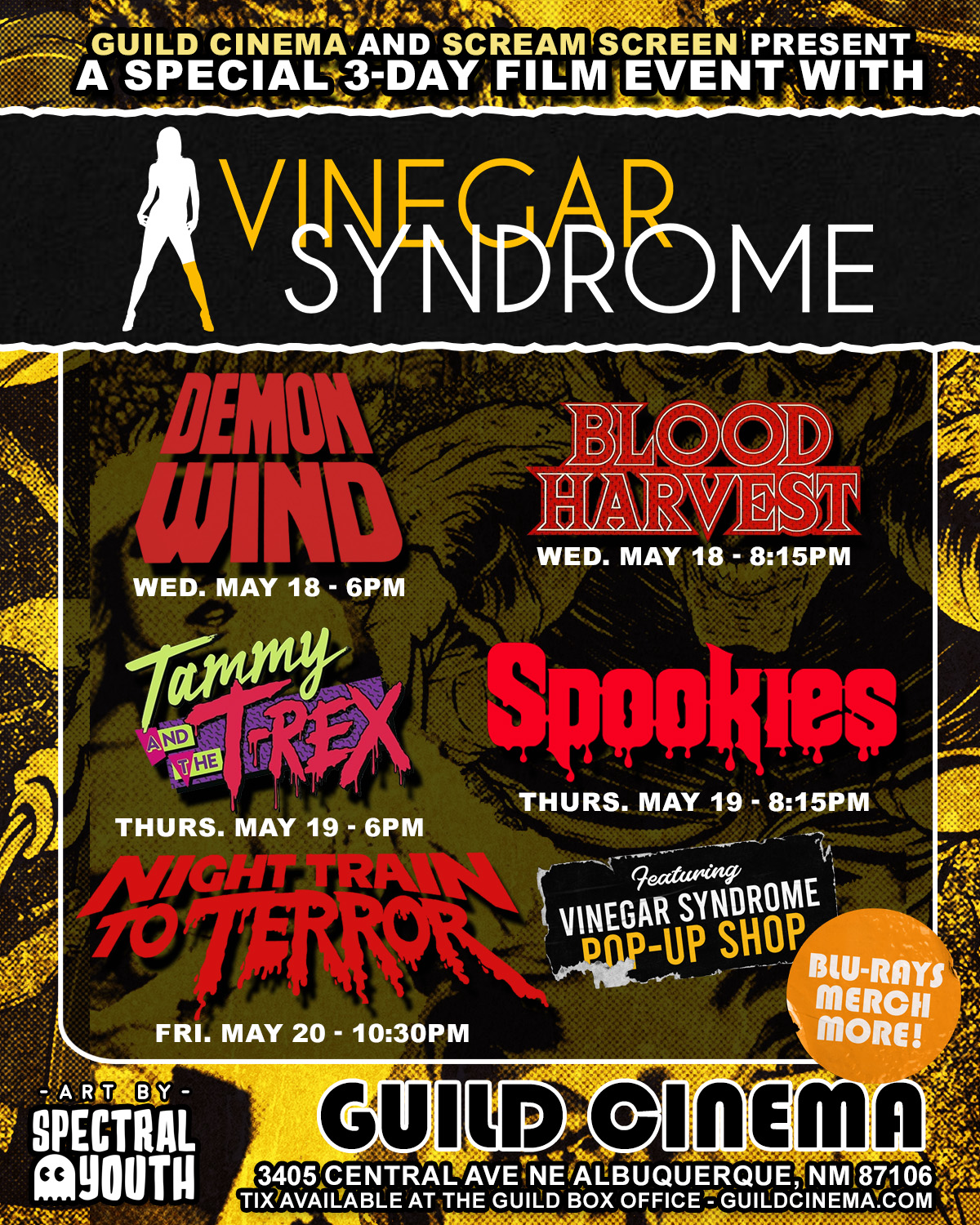 VINEGAR SYNDROME/SCREAM SCREEN BLAST OF CRAZY FLICKS!
May 18 to May 20
Wednesday & Thursday 6pm, 8:15 / Friday 10:30pm
Dir. various - 80s to the 90s! - varies - ALL SEATS $8 PER MOVIE!
The Guild Cinema welcomes the awesome blu-ray/dvd release label Vinegar Syndrome and the great film programming series Scream Screen to Albuquerque!  Five Vinegar Syndrome films screening over three nights presented by Theresa Mercado, programmer and host of Scream Screen (Denver).
BONUS!!  Get ready for a Vinegar Syndrome pop-up shop one hour before and after each screening in the Guild lobby...a ton of VS blu-rays, merch and more!  Long live physical media!
ABOUT VINEGAR SYNDROME:   a film restoration and distribution company specializing in restoring "lost" horror, exploitation, american pornography and B-movies from the 70s thru early 90s.
ABOUT SCREAM SCREEN:   a quarterly (or so) horror film series - the best in under seen and subversive horror cinema - programmed and hosted by Theresa Mercado at the Sie FilmCenter in Denver, Colorado featuring live music, special guests and outlandish cosplay before screenings of under-seen and classic genre films, on 35mm and 16mm film whenever possible.
CO-SPONSORED BY LOCALS SPECTRAL YOUTH, LONGHAIR RECORDS, DARK ROOM HORROR AND BASEMENT FILMS!
Wed. May 18:
6pm - DEMON WIND (1990)
A man's investigation into his long-dead parents' demise leads to the haunted family mansion and a date with a demon.  [D: Charles Philip Moore]  View a trailer!
8:15pm- BLOOD HARVEST (1987)
Bad things happen in a rural town where someone named Marvelous Mervo (Tiny Tim) runs around like a clown.  [D: Bill Rebane]  View a trailer!
Thur. May 19 :
6pm - TAMMY AND THE T-REX unrated gore cut! (1994)
A teen (Denise Richards) learns that a scientist (Paul Walker) implanted her dead boyfriend's brain into an animatronic dinosaur.  [D: Stewart Raffill]  View a trailer!
8:15pm - SPOOKIES (1986)
A dilapidated mansion becomes a slaughterhouse when an evil sorcerer unleashes his monstrous sidekicks on intruders.  [D: Brendan Faulkner, Thomas Doran, Genie Joseph]  View a trailer!
Fri. May 20:
10:30pm - NIGHT TRAIN TO TERROR (1985)
God and Satan are on a train discussing the fate of three individuals. The stories of the people in question are told in a trio of very strange vignettes making this horror anthology unlike anything you've ever seen.  [D: John Carr, Phillip Marshak, Jay Schlossberg-Cohen, Tom McGowan, Gregg C. Tallas]  View a trailer!
Tix: https://www.guildcinema.com/comingsoon/